Travel Team Costs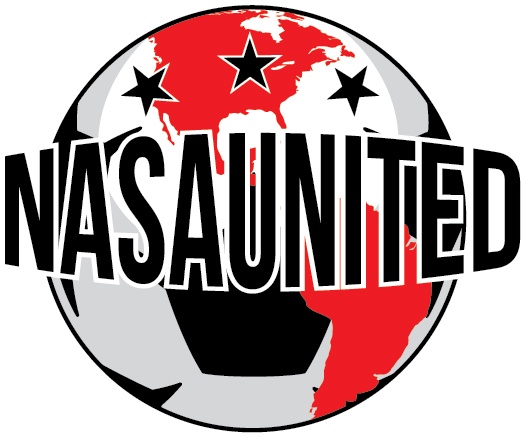 NASA United FC
Travel Team Cost
(Upcoming 2017-2018 Season)
Annual Fee
2017/2018

U07 Boys 2011 - $1550 (EDP)
U08 Boys 2010 - $1550 (EDP)
U09 Boys 2009 - $1750 (EDP)
U10 Boys 2008 - $1750 (EDP)
U11 Boys 2007 - $1950 (EDP)
U12 Boys 2006 - $1950 (EDP)
U13 Boys 2005 - $1950 (EDP)
U14 Boys 2004 - $2350 (EDP)
U15 Boys 2003 - $2350 (EDP)
U16 Boys 2002 - $1450 (EDP)
U17 Boys 2001 - $1450 (EDP)
U18 Boys 2000 - $1450 (EDP)
Registration Includes

All league games for Fall & Spring seasons
1 high level tournament
NJYS sate cup games for U12 and over teams
US Club NJ Cup games for U12 and over teams
Outdoor training - 3-4 days per week
Indoor training - 2 days per week
Goalkeeper training - 2 days per week
2 trainers per team
Official training t-shirts
Player evaluations
Player registration (NJYS, US Club, League & Tournament)
Referee fees
Secondary insurance
State of the art outdoor lighted turf fields
Indoor turf fields
Team/Club expenses

SEE DETAILS BELOW:
SEE ADDITIONAL DETAILS LISTED BELOW:
Travel Season
Fall Season - 13 weeks
Winter Season - 13 weeks
Spring Season - 13 weeks
League Game Schedule
Fall Season (8-10 games)
Spring Season (8-10 games)
High Level Tournament
September, October, March or May (1 tournament included)
NJYS State Cup
U12 and over teams
US Club NJ Cup
U12 and over teams
Training Schedule - Outdoor
3-4 days per week (60-90 minutes) - Fall & Spring
Training Schedule - Indoor
2 days per week (60 minutes) - Winter
Goalkeeper Training
2 days per week (60 minutes) - Fall & Spring
Player Evaluations
1 player evaluation
NASA Programs
Receive 30%-40% discount on all NASA programs
(Spring, Summer, Camps, Fall & Winter)
Uniforms / Warm Ups
Not Included
Indoor Tournaments
Not Included
Summer /Winter Select
Not Included

PRICE COMPARISON
NASA United FC
Town Team
For-Profit Club
Annual Fee
$1450 - $2350
$500-$800
$2200-$3900
Professional Trainers
included
not included, additional fee required
included
Goalkeeper Trainer
included
not included, additional
fee required
not included, additional fee
required
Pre-Season Training
included
not included
not included
Competition
high
low - mid level
high
Player development
high
poor
good
Player turnover rate
Low:
professional staff works to develop all players on roster
Low:
town rules apply, must keep players on roster
High:
tryouts held multiple times every year

Restrictions
none
residency restrictions
cannot play on other teams
Year-round programs
high
none
high
NJ State Championships
3 State Cups
none have won more titles than NASA
only a few clubs have won as many titles as NASA
Club or Academy?
Club

Club
town youth soccer program
Club
Many advertise as Academy clubs; however, the US Soccer Federation only recognizes 4 Academies in NJ (Red Bulls, PDA, Matchfit & NJSA).
--------------------------------
What is the difference? Academies are free & For-Profit clubs charge higher fees.
Ratings

Best value;
excellent player development, professional staff, high level competition with elite player pool and all year training programs.

Multiple State Championships further validates the success of the NASA system.


Good value;
good for recreation level players, development and training not a priority, low-level competition, lack of player commitment, low turnover rate.

Overpriced;
high cost not reflected in training or player development, staff too focused on rankings and tournaments, good player pool but high turnover rate
--------------------------------
NOTE: NJ only has 4 Soccer Academies: Red Bulls, PDA, Matchfit & NJSA.
Players interested in joining one of the Traveling Teams can send us an email for a schedule of upcoming Tryouts or team practices. All interested players must register for all Tryouts.